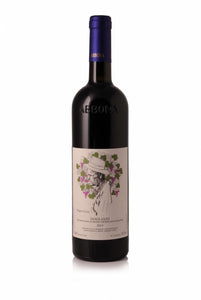 Understandably, we're in need of comfort. Comfort that goes beyond sweaters, binge-watching YouTube, and Pumpkin Spice Lattes. We need wine. Despite the name, this wine is known for being on the dry side with more tannin than Barbera, but less acid.This wine has all of these ingredients but has tripled in intensity of flavor.  Deliciously filled and beautifully balanced.Expect delightfully fruity, licorice, and bitter sensations with this quaffable recommendation.

Food pairing: Pasta dishes, grilled meat and Italian medium-fat cheeses.
Special mention: Gambero Rosso 2009: 3 glasses.
Robert Parker, The Wine Advocate: 90 points.