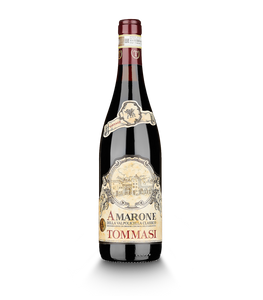 When you think of Tommasi, you think of Amarone. When you think of Amarone, you immediately think of the phenomenal winery Tommasi. For more than 100 years, this great winery has been producing beautiful wines, which are a hit with wine lovers internationally. The Amarone in particular is a great wine. A classic glass of Italian wine. Amarone as it should be. Classic, tasteful, perfect! It is not for nothing that Tommasi Amarone shows off at the top of the wine list at many star restaurants.
Let the great Italian feast begin. Because it's going to be a party, that's a certainty when you open a bottle of Tommasi Amarone. A full glass of wine from the first drop to the last sip. The scent is intense and ripe. A warm, sultry scent meets your nose. Red fruit, spices, and ripe plums. A pleasure for the nose.
Take a sip and be amazed. A tsunami of softness and fullness rolls over your tongue. We can't get enough of this. You taste something of red cherries, nuts and plums. Tommasi Amarone is truly the showpiece of this great winery from the north of Italy.