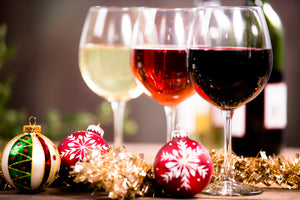 Advent Calendar For Anyone Who Seriously Loves Wine.
With this many wines to taste, you'll be sure to maintain your Holiday spirit all month long.
These box hold vibrant whites, opulent reds, and even a few rosés, all handpicked by our Certified Sommeliers.
Reds:
1 bottle of Feudi 125 Primitivo del Salento (Italy)
1 bottle of Caleuche Cabernet Sauvignon (Chile)
1 bottle of The Dalmatian Dog Babić Vegan (Croatia)
1 bottle of Dolcetto di Dogliani 'Papa Celso' (Italy)
1 bottle of Beaujolais Villages Nouveau Pardon & Fils (France)
White:
1 bottle of Mandorla Pinot Grigio (Italy)
1 bottle of Kuhlmann-Platz Pinot Gris Cuvée Prestige (France)
1 bottle of Grüner Veltliner (Austria) 
1 bottle of Giró Ribot Karamba- Blanc de Blancs Penedès Joven(Spain)
1 bottle of Domaine d'Henri Chablis Saint Pierre (France)
Rose
1 bottle Belrose Méditerranée Rosé (France)
Cava
1 bottle  Giró Ribot -Brut Reserva 0,75l (Spain)
Yes, this makes for a great gift, but we're obviously supporting buying this for yourself, too.