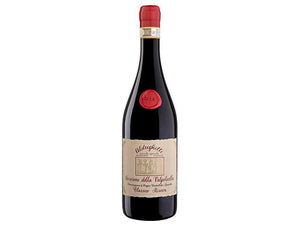 Corvina, Corvinone, Rondinella are the keypoints and main varieties of the Aldrighetti wines, a family company in the heart of Valpolicella Classica, province of Veneto. Aldrighetti is a small boutique winery, that produces high quality wines, with respect for nature and avoid the use of chemial products.
The harvest is made only by hand and the grapes destinated for the production of Amarone are harvested in original wooden boxes, stored in their winery, the "fruttaio", and let them dry for 90-120 days. In 2019 they are subscribed to SQNPI, which is an institute for organic farming,

Intense dark purple coloured red wine with slight garnet nuances. The nose reminds of cherry marmelade, blackberry, chocolate, vanilla and spices.
Full bodied, intense and soft texture on the palate. Warming fruit and hints of liquorice and dried grapes. A long and warming finish.
Food pairing: roast chicken, steaks, mushrooms and aged cheese